The team representing HTA School of Culinary Art was awarded first place in the Pink Table Project #RoseBladeNouveau competition on 5 October 2019.

(left to right: Dylan Price, Chef Sharne Govender, Dante Mitri, Devon Holman, Zaydaan Laly)
4 of the best Culinary Schools in Gauteng joined to be part of #GreatChefsDoingGreatThings and take the #PinkMenuChallenge by competing against each other to create the healthiest and most decadent pink menu for Crowne Plaza Johannesburg – The Rosebank to feature on #WorldCancerDay2020, February 4th.
The competing schools were:
HTA School of Culinary Art
Capsicum Culinary Studio
Guvon Academy
Prue Leith Chefs Academy
Each school will still host their own #PinkMenuChefsTable on World Cancer Day (4 February), but the winner of this competition will host it at Crowne Plaza Johannesburg – The Rosebank.
Have a look at our menu for the evening:

Our Menu
Each attendee rated their favourite starter, main and dessert; and our team was honoured by being chosen as the favourites of the attendees as well as overall winners.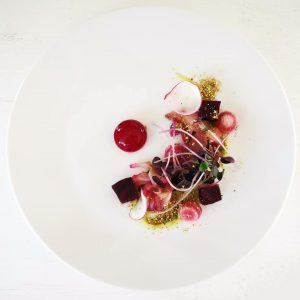 Starter
Main
Dessert
We loved being part of The Pink Table Project – an amazing initiative supporting such a great cause, PinkDrive. Congratulations to Ryan Matheson and his team on a fantastic event.
It was an honour to compete with Prue Leith Chefs Academy, Capsicum Culinary Studio and Guvon Academy – we salute you.
Thank you to all who supported us on the evening and we look forward to presenting our menu again at Crowne Plaza Rosebank Johannesburg in February.