Now in its fourth year, the HTA School of Culinary Art Legacy Young Chef Competition was conceptualised in 2015 with the first competition held in 2016. The competition was created to inspire the minds of young South African Chefs as HTA Students. It also allows the students to showcase their skills and impart the latest culinary trends and further test themselves against the challenges of their chosen career.
Ten Full-Time Second-Year Students were selected through trials to take part in this prestigious competition.
The finalists were:
• Callum Hewitt
• Crystal Zondi
• Dante Mitri
• Devon Holman
• Dimpho Machaba
• Dylan Price
• Martha Mokgadinyane
• Monica Alexander
• Muhammed Uzair Khan
• Tiandra Nain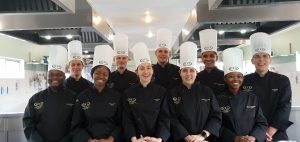 The main objective of the competition, other than that of the educational and fun component offered through competitions, is to expose our students, the next generation of industry leaders, to a wide range of quality products and ingredients and to allow them to incorporate them into 5 Star Cuisine.
The competition was followed by a cocktail event and was attended by approximately 80 influential industry members, family members as well as the sponsors.
Selection of Finalists
The finalists are full-time based students who are about to complete their final year in the Two-Year Full-Time Programme at HTA. They were chosen as semi-finalists for this competition based on their overall performance and marks practically and theoretically over a total of 2 years. Following a cook-off held in August at HTA, the ten finalists were selected.
Judging Panel
The panel comprised of Executive Chefs from leading Establishments, Hospitality Industry Experts and last years' Winner of the Legacy Competition 2018, Anelisiwe Ntamo.
HTA School of Culinary Art thanks them for their contribution to this prestigious event.
Cocktail Event and Winner Announcement
Each finalist was awarded with a Legacy Competition Hamper filled with various amazing prizes from the contributing Sponsors. Each finalist was also given an HTA School of Culinary Art Legacy embroidered Chef Uniform from HTA.
Winner: Devon Holman
2nd Place: Dylan Price
3rd Place: Dante Mitri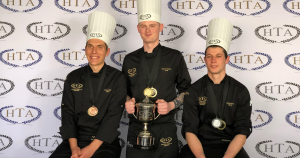 Outcome
The event was a great success this year as it was well supported and the media coverage will no doubt assist in achieving our goals, namely:
– Embrace and celebrate the talent of home grown young South African Chefs
– To allow young South African Chefs to put their skills to the test
– Assist young South African Chefs in profiling themselves and our industry
– To produce quality food under immense pressure
– Provide media coverage for HTA School of Culinary Art
Conclusion
In conclusion, the annual HTA School of Culinary Art Legacy Competition, has already established itself on South Africa's Culinary Calendar and we look forward to hosting the competition for the 5th time next year.
Thank you to all the sponsors and industry guests for your help in making this year's event a success.