Congratulations to Tumelo Masango from African Pride Melrose Arch, Autograph Collection on winning the title of the HTA In-Service Apprentice Chef of the Year Competition 2019.
Now in its 13th year, the HTA In-Service Apprentice Chef of the Year Competition sponsored again this year by Nedan and AFGRI Milling, was conceptualized by Stephen Billingham of HTA School of Culinary in 2006 with the first competition been held in 2007.
For the third consecutive year, Nedan and AFGRI Millings' involvement in the competition is to further invest in the Culinary Youth of South Africa and to reach a broader and wider variety of Chefs and Students currently working in industry and to expose them to the uses and diversity of Textured Vegetable Protein.
Eight recently qualified Young Apprentice Chefs were selected to take part in the competition representing their Training Establishments.
These finalists are: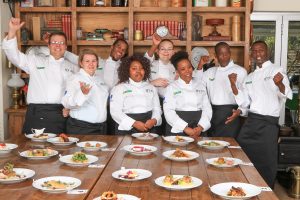 Contestant Name  Establishment / Hotel they represent  (left to right in the photograph)
1. Arman Venter Protea Hotel by Marriott Fire & Ice, Menlyn ( 2nd)
2. Elaine Theunissen Protea Hotel by Marriott Fire & Ice, Melrose Arch
3. Gugu Ndhlovu Protea Hotel by Marriott Fire & Ice, Melrose Arch
4. Kaylee van der Merwe Feedem Catering
5. Tumelo Masango African Pride Melrose Arch, Autograph Collection (Winner)
6. Khanya Magula Feedem Catering
7. Nixon Mandudzi Thabo Eco Hotel (3rd)
8. Julius Msibi HTA School of Culinary Art
The main objective of the competition, other than that of the educational and fun component offered through competitions, is to expose young Chefs, the next generation of industry leaders, to a wide range of products and to allow them to incorporate them into 4 or 5 Star Cuisine.
The winner was announced at the Cocktail Event held after the competition. This was attended by approximately 80 influential industry members, family members as well as other sponsors.
Selection of Finalists
The finalists are industry-based Students who completed their final Block Release of the 3 year Chef Apprenticeship programme in 2018 at HTA. They were chosen as semi-finalists for this competition based on their overall performance and marks practically and theoretically over a total of 3 years. Following a cook-off held in May at HTA, the eight finalists were selected.
Judging Panel
The panel comprised of Executive Chefs from leading Establishments:
Judge Convenor:
Chef Bruce Burns
(former Director SA Chefs Association, General Manager HTA)
Judges:
Chef James Khoza
(President SA Chefs Association & Exec Chef Sandton Convention Centre)
Mr. Johan Wessels
(Managing Director AFGRI Milling)
Chef Trevor Boyd
(Manager Culinary Team SA & Exec Chef Michelangelo Hotel)
Chef Coo Pillay
(Director of SA Chefs Association & Exec Chef Protea OR Tambo)
Chef Jodi-Ann Pearton
(Owner Food Design Agency, former Director of SA Chefs Association and multiple culinary competition winner)
Chef Marco Gaspar
(Head Pastry Chef Palazzo Hotel, Montecasino)
Cocktail Event and Winner Announcement
Each finalist was awarded with a Nedan and AFGRI Milling embroidered Chef Jacket from Sigma Chef, a framed HTA Certificate and Medal and a range of gifts from sponsors.
Gifts and sponsors included:
Ready Veg – Vegetables for Competition
Protea Hotels by Marriott – Accommodation Voucher
Ciro Beverage Solotions – Coffee and Teas
Foodboys – Meat for Competition
Sir Fruit – Refreshments
Anvil – Gift Packages
Be Well – Gift Packages
Future Foods – Gift Packages
SA Chefs Association – Gift Packages
City & Guilds – Culinary Books
Snappy Chef – 1 x Induction Stove
KEE Ingredients – Cheese Hamper
Prestige – Furi Knife Roll
MIC – Gift Packages
Rich's – Pastries
Sigma Chef – Uniforms
Ecolab – Chemicals
Cape Herb and Spice – Salt & Pepper Shakers
Sharp Edge Sharp Shooter –Knives
Lucky Star – Product Hamper
The winner of this year's competition is Tumelo Masango from African Pride Melrose Arch, Autograph Collection who won the main prize of R7500 from HTA, Snappy Chef Induction Unit, a Knife set from Furi Knives, stunning glassware from Maxwell & Williams, Rich's Hamper and a SA Chefs Association Hamper.
2nd Place: Arman Venter from Protea Hotel by Marriott Fire & Ice, Menlyn
3rd Place:  Nixon Mandudzi from Thabo Eco Hotel
Headline Sponsor:
Nedan and AFGRI Milling
Outcome
The event has always been a great success as it was well supported.  Your media coverage will no doubt assist in achieving our goals, namely:
– Embrace and Celebrate the Talent of Home Grown young South African Chefs
– To allow recently graduated Chefs to put their skills to the test
– Provide Media Coverage for Nedan, AFGRI Milling and HTA School of Culinary Art
– Exposure of Nedan and AFGRI Milling Products to Industry Partners and how they can be incorporated in up market cuisine
– Assist young Chefs in profiling not only themselves but the Chef, Catering and Hospitality Industry
Conclusion
In conclusion, the annual HTA In-Service Chef of the Year Competition, has clearly established itself on South Africa's Culinary Calendar and we look forward to hosting the competition for the 14th time next year.
Thank you to all the sponsors and industry guests for your help in making this year's event a success.