On 23 October there was cocktail reception for Chef Anton Mosimann OBE at HTA School of Culinary Art in the presence of the Sandton Chefs Circle.
The event kicked off with a guard of honour for Chef Mosimann, performed by students from the HTA School of Culinary Art – the appropriate way to welcome a culinary legend and inspiration to many.
After this hero's welcome Chef Stephen Billingham, founder of HTA, took Chef Mosimann on a tour of the facilities; culminating in showing our guest the brand new Anton Mosimann OBE room – so named as a homage to Chef Mosimann.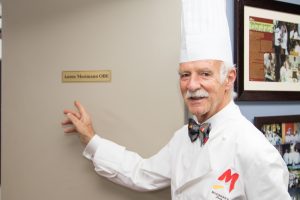 The evening continued with the reception, attended by the Sandton Chefs Circle. Chef Stephen Billingham introduced the guest of honour to the gathering, whereafter Chef Mosimann regaled those present with some of the highlights of his phenomenal career to date.
HTA School of Culinary Art was truly honoured to host this culinary legend and hero to many in this visit to our school, allowing a new generation of young chefs to be inspired by his passion, his person and his legend.